Vintage Guitar Man
About Us

My name is Chip Brauer - owner, operator, guitar technician, and broker of www.vintageguitarman.com.
I began my love for music and playing guitars at young age of 14 and since then I have taken my passion for musical instruments to many levels and have worked with people all over the world.


I Graduated Ohio Institute of Technology as an Electronics Technician June 1975.


In Feb of 1988, I founded Ruff-Cut-Music, Fredericktown Ohio. There I developed my connections with a network of people, music dealers, and guitar shows.
| | |
| --- | --- |
| | I began attending Guitar Shows June 1989, since then, I have been to numerous guitar shows as a dealer, including Columbus OH: Cincinnati, OH:Detroit, MI: Dallas TX:Cleveland OH: Minneapolis MN: Marquette MI: Nashville TN: Chicago IL: Ann Arbor MI: Kalamazoo MI:also attended NAMM (National Assn. of Music Merchants) shows in Nashville TN. |
In 1993, I founded the Central Ohio Musical instrument Swap Meet.

After relocating to the Upper Peninsula, I established Guitarman in 1996 in Germfask MI, focusing on guitar, fretted instrument repair and restoration, tube amplifier repair and brokering vintage instruments.

Through my extensive established network of collectors, players, and dealers around the
globe, I have dealt with guitar afficiandos in many countries, including the Unites States, Japan, Finland, Gt. Britain, Austrailia, Canada, and several others.

Shown in the guitar rack photo front to back: 1969 Gibson Les Paul Deluxe (aka "Gold Top") , 1971 Gibson SG 200 , 1978 Gibson Les Paul Standard , 1967 Gibson ES 300 , 1965 Gibson ES 120 T , 1952 Gibson L-1 , 1957 Gretsch Electromatic
Other credits to my resume include:

Advisory Board, Blue Book of Guitars since 1998

Manufacturers Representitive for Ramtrak guitars since 1999


Founded Vintageguitarman.com 2007

Thank you for visiting - I look forward to hearing from you!

Guitars - Buy, Sell, Trade, & Repair
Used & Vintage Guitars, Amps and Effects
Vintage Guitar Man - Buy, Sell, Trade, & Repair your treasures with us!
Home
Items for Sale
Vintage Guitars / Amps
Used Guitars / Amps
Vintage Parts
Miscellaneous
Vintage Gallery

Your Online Resource for Hot Deals!
Gibson, Fender, Gretsch, Martin, Supro / Valco, Dobro / National, Kay, Kalamazoo, Guild, Epiphone, Larson, Silvertone, Airline, EKO, Egmond, Hagstrom, & Many More!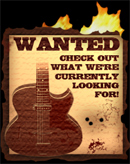 Check out our current Wanted Items - We buy, sell, trade, & repair!


Secure Payments with PayPal - Visa, Master Card, Discover, & American Express